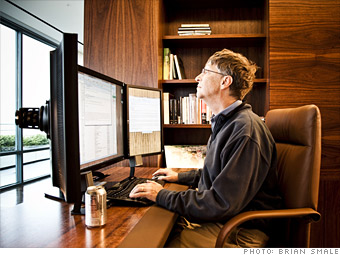 Bill Gates is known for many things: he helped kick start the personal computer revolution; he is a maverick software developer; he founded one of the biggest companies in the world; and he is the richest person on planet Earth.
In recent years, however, Gates has rebranded himself from a software and technology tycoon to a humanitarian and philanthropist.
One of his biggest projects in recent years is to raise the educational and living standards of students all across the world. Whether it be students in his home country of the United States or the students in third-world, developing nations, Bill Gates has a strong belief that education and access to education is the way to better humanity.
Improving Literacy Rates Worldwide
Recent studies show that learning to read even as late as your 30s can significantly improve brain cognition, which shows improving literacy rates isn't just something we should focus on for children. Not only do improved literacy rates produce a huge practical benefit to a population, but they also improve the individual's brain cognition—for all age groups.
It is no doubt that the Gates Foundation has seen similar studies showing the benefits of such reading skills, which explains why the Foundation is such a supporter of reading and writing skills. Whether you want to learn basic writing skills, basic reading skills, or advanced usage topics, the Gates Foundation seeks to help students globally.
Efforts in the United States
While the Gates Foundation is active all across the globe, let's focus on some of the educational projects it has here in the United States.
Since Bill Gates comes from a business background, it shouldn't be surprising that he is results-driven. What this means in practice is that he and the Foundation don't necessarily mind shaking up things in the educational establishment.
This has led those from both sides of the educational debate to criticize him and his efforts. His support for Common Core has caused outcries from those on the right, and his support of charter schools has caused outcries from those on the left.
In short, he wants to see results and doesn't want to get bogged down in the process. In order to get kids reading and writing better, they need to learn the basics. This means instruction of basic grammar, word usage, and the like. If a high-school senior can't tell the difference between loss and lost, how can they be expected to write a coherent resume?
This is a serious problem taking place in American schools right now. One of the most basic things in education, learning to read and write, our schools cannot teach. In large urban areas, upwards of 90 percent of students are not proficient in reading.
Again if a student can't read, how can we expect him or her to write? Students writing skills have been declining for years. Forget tricky parts of the language like allude versus elude, these students can't even write basic sentences.
This is why Bill Gates and his foundation are so passionate about raising literacy rates. Language helps us communicate, better our lives, and enrich our souls. Without it, we are destined to fail.